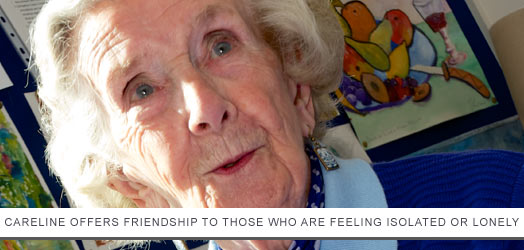 Our Trustees
Our Board of Trustees actively oversees the on-going development of the charity, supported by a small team of part-time staff who are based in the Careline office:
Wendy Woodhouse – Chair
Wendy started volunteering for Careline back in 2017 and she soon realised what an important service it provides and wanted to help ensure that the charity continues to provide its vital service. She was born in Buxton and after moving around the UK to study and work she eventually gravitated back to Derbyshire. She runs a small business providing advice to retailers in relation to Trading Standards and consumer protection legislation.
Tricia Barclay – Vice-Chair
Tricia lives in Ashbourne with her husband, Kevin. She was The Manager of The Derbyshire Building Society in town before moving to The Walbrook Housing Association as Head of their Home Improvement Agency. Upon moving to Jersey 12 years ago she worked in a Day Club for the over 50's who were isolated and lonely. She enjoys reading, playing the piano, walking & socialising and being with her family after retiring back in Ashbourne 18 months ago.
Melanie Ferguson-Allen – Treasurer
Melanie has lived in Ashbourne for the last 20 years, having grown up in Hampshire and working in Newcastle Upon Tyne, Oxford and Shropshire before settling here with her family of 3 boys. She is a Director of Partnerships for Better Business Ltd, who are Business Improvement Districts consultants.  She is a member of Peakland Players and loves spending time with her friends, family, and their many dogs.  Melanie knows how much her daily contact through telephone makes a difference to her mum who lives 200 miles away, and this was a driving factor in wanting to be involved with Careline to make a difference to others who are alone.
John Leicester – Secretary
A qualified teacher and social worker, with a background in special education, recognising the unique worth of every individual and the importance of ensuring their engagement in the education process. Retired from the post of Barnardo's National Education Coordinator in 2010. I undertook many external roles including Secretary of Youth Build UK. In 2013 I joined the Ashbourne Neighbourhood Plan Steering Group to undertake an Education feasibility study for the Town. Through this exploration of the Ashbourne Community the valuable work Careline was undertaking in supporting vulnerable and lonely residents was highlighted.
Gordon Hart – Trustee
Since I began making calls for Careline I have been astonished by how vital this service is. I began because, having worked in schools, as a headteacher and as a governor, I wanted to make a contribution in the adult world. As a caller, I quickly realised my responsibility for the safety of isolated people. Then I started making friends through my calls with the engaging and fascinating folk who are our clients. It has never been a more important time to support our Careline.
Nicola Bexon – Trustee
A Strategic Account Director for an Insurance company, I live in Marchington with my husband and 2 dogs, Fudgey and Maisie. One of my passions is travelling the world and exploring new places and cultures. I am also a huge horse racing fan and used to be a professional jump jockey for many years but now I get my kicks from owning a racehorse rather than riding one! Becoming a volunteer and a trustee is something that I am hugely passionate about and a way that I can hope to make a small difference where possible.
Connie – Member Representative
Connie is our member representative. She enjoys needlework, knitting, reading (particularly Pam Rhodes novels) and watching Countryfile, Songs of Praise & the evening news and likes to attend church on a Sunday morning. She also makes the most delicious cakes.