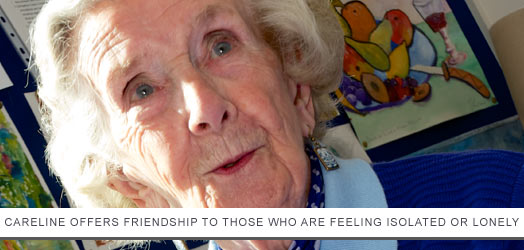 Our Trustees
Our Board of Trustees actively oversees the on-going development of the charity, supported by a small team of staff who are based in the Careline office:
Gordon Hart – Chair
Since I began making calls for Careline I have been astonished by how vital this service is. I began because, having worked in schools, as a headteacher and as a governor, I wanted to make a contribution in the adult world. As a caller I quickly realised my responsibility to the safety of isolated people. Then I started making friends through my calls with the engaging and fascinating folk who are our clients. For these reasons I am delighted to have taken on the role of Chair of Trustees and to be leading a group of individuals committed to maintaining this invaluable community activity. There are testing times ahead with funding being squeezed from every side. It has never been a more important time to support our Careline.
Dot Russ – Vice Chair
Dorothy (Dot) was born in Scotland and spent her formative years in Sussex. After training and working as a physiotherapist in London she moved to Norfolk where she became physiotherapy service manager for North Norfolk. It was whilst in Norfolk that she met her husband, Peter. Following her retirement in 2010 they moved to Derbyshire in 2011 and now live in Tissington, enjoying gardening, in particular creating a healthy vegetable garden, and then eating the produce! Dot also enjoys singing, being a member of two local choirs and treasurer of one of them; she also has a varied interest in crafting, particularly sewing, knitting and card making. She and her husband Peter enjoy travelling to foreign shores on holidays, particularly the Far East.
Dot started as a volunteer for Careline in December 2012 and has enjoyed the contact with many of the members. This year Dot has started her training as a guide for Tissington Hall, which has highlighted her inability to remember dates, an essential talent when elaborating on the family history of the FitzHerberts.
Tom Sread – Treasurer
Tom was born in South Derbyshire and went to  Ashby Grammar.  He qualified as a Chartered Accountant in 1968 and after spending 3 years post qualification in London, returned to the area and managed the Ashbourne and Buxton offices of Smith Cooper.  He became a partner and eventually senior partner before retiring from the practice in July 2009
After a brief spell on Lambourne Avenue in Ashbourne, Tom moved to Snelston, where he has lived for over 35 years. He has been married for 38 years to Liz and they have a son, who is married with young children.
Annette Eley – Secretary
Annette grew up in Derby. She graduated from the University of Durham and trained at Bishop Otter College, Chichester. She taught in a variety of primary schools in Derby and Derbyshire. Latterly, following a course of treatment for breast cancer, Annette set up and ran a small business selling specialist underwear.
Now retired, Annette has really enjoyed being a volunteer for Careline for about four years. She is married to Rob and they have three adult daughters and three grandchildren. She enjoys hiking, skiing, swimming, gardening, reading and talking with people.